A Deli Premiere: "Jimmy Rover" by Fire in the Field
12.13.19
For listeners familiar with Fire in the Field's funky and upbeat style, a sonic treat awaits, surprisingly tame but deeply wild. "Jimmy Rover" showcases the band's appreciation for the slow-cooking nature of the blues as it lets its normally dance-inducing guitar riffs build slowly, ripping on occasion to smooth vocals from lead singer Mike Moore who is committed to storytelling. As the guitar solos shred, at high-voltage, one is reminded of the band's old-school passion and youthful energy: Fire in the Field has a strong essence of classic rock. During the song's final breakdown, the bass and drums lock-in even in their euphoric state to complement the song, which echoes the beauty and grit of Chicago blues. Recorded, engineered, mixed, and mastered by Jay Frigoletto at Oak Hill Music in Brookline, NH, this latest single by the band offers something wholly different from its usual style, but remains a track that fits perfectly into the band's archives. We are thrilled to premiere "Jimmy Rover" for you below; catch Fire in the Field at Bishop's Lounge in Northampton, MA, on Dec 14th. - Rene Cobar
Permalink: http://newengland.thedelimagazine.com/42411/deli-premiere-jimmy-rover-by-fire-field
The Deli Magazine New England
August 1, 2019
by Rene Cobar
"Fire in the Field delivers a sticky-sweet summer single, plays Jewel Music Venue 08.09" 
The duality of Boston's Fire in the Field is overwhelming: the sharp contrast between the group's sensual lyrics and killer rock riffs is a recipe for a complete mind takeover. The funk flows abundantly in the band's latest single "Under the Sun" as a groovy drum beat and stylish electric guitar strums flourish. The panache with which the lead vocals switch from a swagger-filled modulation to sensible falsettos recall the glory of Prince's '80s heyday. The band delivers a single gooey with style and confidence, and it is bringing all of that to the Jewel Music Venue in Manchester, NH on August 9th. We are streaming the new single for you below. - Rene Cobar 
http://newengland.thedelimagazine.com/41237/fire-field-delivers-sticky-sweet-summer-single-plays-jewel-music-venue-0809
DEC 21, 2018 
via BOSTON HASSLE (original article)
FRESH VID: FIRE IN THE FIELD – TOMAHAWK 
BY MINAH THOMAS 
Fire in the Field's new single, "Tomahawk," off their EP, War Bonnet, packs heavy guitar riffs and tons of energy and attitude. This Boston based band have played at The Middle East, The Paradise, Brighton Music Hall, and in Austin for SXSW in 2017 is made up of Mike Moore on guitar and vocals, Jeff Badolato on bass and Brad Conant on drums. 
Their release is impressive in that Moore's voice clearly reflects their musical influences like Zeppelin and Hendrix. Their music video even speaks for itself, with Moore jamming out in electric, red leather across the streets of Boston and contemplating the state of music. Lyrics like, "Heard the radio/way it demonize/yeah there's right there's wrong/the truth still waits in line," shows the bands intentional criticisms and musings on the idea of the truth of life. Overall, this band and this video is not one to be missed and should be your go to for a band that isn't afraid to bring a new sound to a classic genre.
VANYALAND - STUDIO 52 FEATURED BAND OF THE WEEK - MARCH 9, 2018
What Studio 52 Says: Drawing influence from a pinpointed and fine-tuned range of genres, Boston's Fire in the Field hone in on a modern day Zeppelin/Hendrix hybrid sound that doesn't lack energy, guitar solos, or blues progressions. Their high energy and guitar focused songwriting style creates somewhat of a nostalgia overload for classic rock and blues fans, while keeping those tried and true genres relevant to the younger generation. With four albums currently under their belt, their most recent release War Bonnet brought a new side of Fire in the Field to light, as it's more furious and driving than anything else listeners have heard from them. Previous releases were clearly very blues driven, while War Bonnet leans more in the direction of grunge and '90s alt rock, without losing the blatant classic rock feel that characterizes their sound, leaving fans anxious for whats to come from this ever evolving power trio. Come see Fire in the Field unleash a blast from the classic rock/blues/grunge past tonight (March 9) at Exhibit 'A' Brewing Company in Framingham or Saturday night (March 10) at The Cantab Lounge in Cambridge with support from Heavy Necker and The Cosmic Vultures. — Trevor McSweeney, Studio 52
http://www.vanyaland.com/2018/03/09/studio-52-featured-band-of-the-week-fire-in-the-field/
June 4, 2018
Fire in the Field 
War Bonnet 
Review by Gary Hill 
To describe this set with one phrase, the riff is king. These guys have produced a sound that is very nearly heavy metal, but probably lands more in the hard rock zone. There is definitely stoner rock at its core, but it's tempered with things from psychedelia to even the hard rock of early Grand Funk Railroad. Fire in the Field's music is fuzz-drenched and so cool.  
This review is available in book format (hardcover and paperback) in Music Street Journal: 2018  Volume 3 at lulu.com/strangesound. 
Track by Track Review 
Tomahawk 
The fast paced riff that starts this is just so cool. This thing powers out like screaming hot old school heavy metal. It drops to a mellow kind of groove for the vocal section. They alternate between those two sections. They both get expanded upon at different points along this road. This is part old school heavy metal, part progressive rock and part stoner rock. It's all cool. 
Swift Hoof 
Killer riffs are again at the heart of this. The proggy and mellower elements of the previous cut are gone here. Instead, the stoner rock kind of element really creates the concept of the tune. It does drop back for some killer rocking guitar soloing, though. This thing is fuzz-laden and so tasty. 
Duke of the Valley 
There is a bit of a punky edge to this piece. The tune works through some changes within it's stoner rock grind. This is another killer cut on a disc that's full of them. 
Elephant 
The opening on this is even meatier, if that's possible. The fuzz content is killer. It alternates with a bit more melodic section. This feels like Electric Wizard mixed with more of a mainstream hard rock band. 
Peasant Once Passed 
Psychedelia and stoner rock merge on this killer cut. There are some almost punk like parts with the shouted slow moving part of the tune. 
Save 
The cool just oozes off of this killer rocker. It's built around the same stoner rock sounds as the rest of the disc, but when it's this good, why change. Again there is a good balance between the fired up and dropped back parts of this.
http://www.musicstreetjournal.com/index_cdreviews_display.cfm?id=106354
Fire in the Field CD release War Bonnet Rocks with Authority
By Judy Dessanti, Patch Poster |  |
With cover art drenched in red the band Fire in the Field's War Bonnet CD tells its stories in an entertaining - loud - manner accompanied by riveting precision. "Tomahawk" opens the disc following the lead of the Rolling Stones, putting a memorable riff and melody front and center. Just as Tattoo You had "Start Me Up," "Brown Sugar" leading off Sticky Fingers, "Rocks Off" doing the same for Exile on Main Street, "Tomahawk" splits you between the eyes with its unique and eloquent guitar work. All four minutes and twelve seconds of it. "Swift Hoof" follows with Mike Moore's guitar painting interesting musical ideas with the cascading melodies riding the undercurrent of multiple riffs, all colliding in harmonious fashion. The theme of the album appears to take Black Sabbath's Master of Reality into Elton John's Tumbleweed Connection world - a dark look at the old wild west, perhaps a metaphor for all the madness going on throughout this war-torn planet. The songs span the three and a half to four minute mark, "Duke of the Valley" would also fit nicely into the soundtrack of a modern-day "spaghetti western" like the ones Clint Eastwood cut his teeth on. The songs swim in good production, the heavy leaden boots plodding of the rhythm, sizzling guitar work and large quantities of vocals and lead lines put an exclamation point on the proceedings. The music in both "Swift Hoof" and "Duke of the Valley" prowling, growling with real intensity. 
The stomp entitled "Elephant" was engineered & mixed by John Santarelli at Oil Can Studios and mastered by Jay Frigoletto at Metronome. "Trample your master" are the lyrics and vocal from Mike Moore, the crunching sounds from the three members of Fire in the Field marching to the same sonic beat. Elephants are in vogue these days, and this tune is an excellent follow-up to "Tomahawk" if streaming singles and vinyl are on the agenda. "Peasant Once Passed" is the longest track at 5:06 and smashes you in the face with its forceful, bright sound elements. Moore's vocals are either echoed in the distance or he's speaking in heavy metal incantations. "Save" concludes the disc with yet more imaginative riffs and, thankfully, the band is smart enough to keep the tracks to a maxi-E.P. or mini-album six selections. We are in an age of sensory overload where less is more, and there's enough meat to savor here for quite some time. Fire in the Field is a definite find, major league all the way around. 
EVOLVEMENT RADIO - Album Review 
Fire in the Field - War Bonnet 
Release date: October 2017 
​We're going to start the year off heavy here at EvoRad's Album Analysis.  Fire in the Field dropped a scorching 6-track EP in October that escaped my immediate attention but that you should turn yours to immediately.  While digesting this Ep I found myself stepping through a veritable cornucopia of comparisons.  At first listen I was drawn to the Aerosmith influences tracks like "Swift Hoof." Not the gag-reflex-inducing Love in an Elevator-era Aerosmith but the grimey, garagey Aerosmith of the early and mid-seventies.  Next time through I fell hard for the sexy, soulful grooves of "Elephant" and " Peasant Once Passed." When I was done I found myself reaching for my perennial favorite stoner rock band, Clutch.  A few more listens in and out popped the unhinged vocal style of The Mars Volta's Cedric Bixler-Zavala layered on the crunching riffs of Rage Against the Machine. 
In some ways this EP defies categorization but Fire in the Field's ability to draw so many and such wide comparisons while maintaining a cohesive sound all their own is a feat unto itself. 
The touchstones are pure rock gold and that ought to be enough to convince you to give a listen. Go find them now… www.fireinthefieldmusic.com.
http://www.evolvementradio.com/reviews
 "Fire in the Field returns home to play Stone Church Jan. 12"
By Christopher Hislop
Posted Jan 9, 2018 at 7:48 AM
 On Friday, Jan. 12, Fire in the Field makes its triumphant return to the Granite State when the band shares a bill at the Stone Church with Gretchen & the Pickpockets. The show marks the first New Hampshire play for the band (who formed in East Kingston) in nearly two years. In support of their brand new release, "War Bonnet," the Church will be moving and shaking as rock will commence. Heavy, cathartic rock and roll. Just what the doctor ordered during this time of bone chilling arctic freeze. 
EDGE caught up with frontman Mike Moore to discuss the new record, the Big Three, and the neighbors. 
EDGE: Let's talk about "War Bonnet." Holy smokes. I think I'm tired of people saying rock is dead. Nothing could be farther from the truth. "War Bonnet" is the next chapter. (Or is it the current chapter?) 
Moore: "War Bonnet" is our most direct and realized chapter. We made a conscious decision to keep it heavy on this one. It had been two years since we played with Jeff (bass). There was so much unrecorded bare bones riffage in the can from the old days. Each record this band has done we've added a new texture, a new player, and for "War Bonnet" we stripped it down to the core - guitar, bass, drums, vocals. 
EDGE: What were the goals for this EP? 
Moore: Initially, the goal was to revisit some unfinished material begging to get made. Soon it became a split between finishing up some old and writing new jams. 
EDGE: How are things in the Fire in the Field camp? What does 2018 have in store? 
Moore: We're psyched to be moving around playing gigs in parts of the Northeast we've never been. Portland, Maine and NYC have been especially good to us. Music video sometime soonish for "Tomahawk" in which I wield an actual tomahawk. I've been tossing around the idea of recording a live album since we've been playing so many shows. 
EDGE: I'm going to jump around a bit and ask some random questions. First track is "Tomahawk." It's an aggressive wave of aural onslaught right out of the gate. Given the name, and the fact that I'm a life-long Celtics fan, I feel like you're channeling the great Robert Parish and dunking right on the masses, Tomahawk-style. I'm sure this wasn't a conscious part of the effort, but was it? 
Moore: You know John, Jeff, and I never discussed who would be Parish, Bird, and McHale in a hypothetical "Big Three" scenario, but we are a power trio. 
EDGE: What all inspires your songwriting? Do you start with a lyric or a riff? Are your neighbors cool? 
Moore: The easiest way is to write a riff and get a mood, catch a vibe and pen some words to it. I write a lot of poetry though and "Duke of the Valley" and "Peasant Once Passed" were lyrics first, music came separate, and then I tailored the words to fit the music. We'll have a jam in rehearsal and then I listen to the recording, go through some poetry and slice and dice. 
The neighbors aren't cool; they're scared, I think. No one is going to go pound on a basement door when they hear an evil riff rattling the walls and someone shouting, "Now, it's war!" I wouldn't anyway. 
EDGE: This record is very "Sword-ish" in sonic scope. Loud, long tune with anthemic, otherworldly qualities. You a fan of the Sword? What's your current playlist look like (in general)? 
Moore: Absolutely love The Sword. 
I usually listen to albums and mostly when I'm driving. Right now in a pile (yes, a CD pile) on my passenger seat sits an Alan Lomax Anthology Collection, obscure Prince records from the '90s, Cypress Hill, Doyle Bramhall II, Patti Smith, Mavis Staples' new record, Reverend Gary Davis, etc. 
EDGE: You're heading back up north to the home turf for a show at the Stone Church in Newmarket. What excites you about the gig? When's the last time you played in these parts? 
Moore: It has been too long since we played New Hampshre. Two years maybe? Gigs at the Stone Church feel like a pilgrimage to the source. I grew up down the road in East Kingston; saw my first legit shows there at 18. 
EDGE: What can folks expect when they come out to see you play? Will you be sporting a headdress? 
Moore: Expect an energy and performance you can't get anywhere else. I will not be sporting a headdress. 
EDGE: How many guitar strings were harmed in the making of "War Bonnet"? 
Moore: Guitar string survival rate was actually reasonable, eardrums on the other hand ...
http://www.seacoastonline.com/news/20180109/fire-in-field-returns-home-to-play-stone-church-jan-12
Fire in the Field – 'War Bonnet'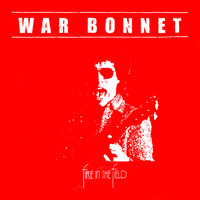 Fire in the Field fires forward with fury on the raging classic punk rock ruckus of "War Bonnet". Riffs burn through great vast terrains as they rush through with a sense of urgency. By opting for such a timeless sound Fire in the Field ensures that their music feels akin to great art, moving yet perfect with its emotionally direct approach. Lyrics have a dreamy, highly descriptive quality to them. At times the wild, unhinged spirit recalls Death From Above's early work. Volume deserves to be blasted for the sound needs to be felt and heard. By choosing such a visceral approach Fire in the Field goes straight for the heart.
Stream: https://fireinthefield.bandcamp.com/album/war-bonnet
With "Tomahawk" Fire in the Field make sure to start the collection off right with all cylinders blasting. Heavier still is the dirge of "Swift Hoof" where the track goes for a lumbering gargantuan take. Nimble guitar work gives the song an almost funk-like approach, as the jagged rhythm works wonders, adding to the overall heft of the colossal riffs. A little bit of the blues makes its way into "Duke of the Valley" where the song opts for a nearly tragic quality. By far the true heart and soul of the collection comes from the deliberate stripped down grit of "Peasant Once Passed". Concluding the collection on a high note is the rollicking roll of "Save".
https://www.fireinthefieldmusic.com/
The balance between the bombast and the beautiful is what makes Fire in the Field's "War Bonnet" a truly unforgettable experience.
By – Shannon Carey
Fire in the Field's Mike Prescribes the Bullets of Violent Rock n' Roll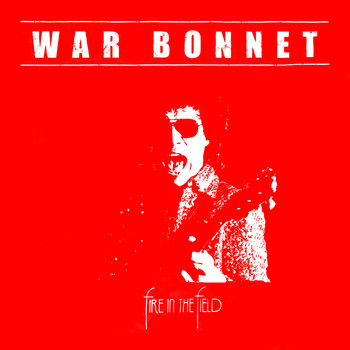 Fire in the Field's drives their impression of rock music to a furious style of heaviness, that pushes the boundaries with the energy, angst, depth and great detail. How much detail is great detail? Well it just so happens that their latest album "War Bonnet", has created such a buzz, that these guys just want the fans and others alike, to feel the movement that their music creates, just as other music has moved the band mates themselves. Guitarist/vocalist Mike Moore goes into detail about the album, inspiration behind their music and lyrical context, as well as future plans in terms of playing shows and much more.
NP: Give a brief history of Fire in the Field's music style, and the members.
There was once a flame. From the flame emerged an angry kid with a guitar and a drummer with a heavy beat and a bassist with a penchant for doing naughty.
NP: How did the band come up with the name Fire in the Field and tell me what does it mean for you?
Witness to a sacrifice of thousands circa late 1990's on a burning plain, with a salty ocean wind in the air seacoast New Hampshire. No stars that night.
NP: What inspires Fire in the Field's music and lyrical writing? Which acts do you take influence from the most when creating your work?
If your soul is burning you must keep it moving by feeding it the right fuel. Which acts? One through three. Sequels are hit or miss.
NP: Which songs off "War Bonnet" have received the single treatment? Did said song also have an accompanying video as well?
Each song stands as a single entity and form a track list together. They've added "digital collections of music or photos" to the definition of the noun "album" in the Webster's Dictionary. Phew.
Stream: https://fireinthefield.bandcamp.com/album/war-bonnet
NP: What is the difference between your latest album "War Bonnet" and the very first records?
We kept this one lean and mean and founded on our trio roots. Which means we left the bluesier numbers for the next record and this one is pure searing rock n' roll in the vein of some of our other tracks people know, "Soledad" , "Stone Hearted Creature" , "Caravan & Hawk" or "Most Evil". A return to form but a surge forward.
NP: Why did you want to go ahead and title this album "War Bonnet"? Who was the member to have a war over not getting to wear the bonnet?
Great question. "War bonnets or headdresses are feathered headgear traditionally worn by male leaders of the American Plains Indian Nations."
NP: Which producer did you decide upon when writing and recording for this album?
We decided upon ourselves.
NP: How would you describe the album's artwork, who was the one to create it?
Nate Forman took a picture of me screaming on stage at an Austin, TX show during SXSW 2017. Ryan Daly, my friend who did the artwork for our 2014 release "Gypsy Tea Room" put the package together. I came up with the concept with someone else. A definite team effort with Ryan doing the heavy lifting.
NP: What's your take on "War Bonnet" as a whole?
Blood curdling into a soul-chasm of life and rock n' roll at a break neck pace hung in bright red light under the black hole riptide.
NP: How about plans for the remainder of this year, what do you have planned?
October 27th – Middle East Upstairs – the War Bonnet release show. We're getting to Worcester, to Burlington, VT – back to our roots in southern, NH…. a fun one with Maine rockers Five of the Eyes who just put out a great record, and a Boston staple, The Shills. We're playing an amazing venue in Southbridge, MA called Starlite. Demetri and Rob over there are two of the coolest cats around and their venue doubles as an art gallery. Everyone should check this place out – https://www.facebook.com/starlitegallery/. It's what every hip spot in Somerville wishes it could be. We play Starlite on Nov. 11 – but just go to our website www.fireinthefieldmusic.com to get all our tour dates.
NP: Where can we listen to your band and where can we buy your stuff?
http://www.fireinthefieldmusic.com
NP: What is it you'd like a listener to remember the most when hearing your music for the first time?
I would never desire someone else to remember anything except what's important in life. In terms of Fire in the Field's new album I can only hope they feel moved because that's what my favorite music does to me.
https://www.facebook.com/fireinthefield
By: Natalie Perez
May 11th, 2016 - SKOPE MAGAZINE (www.skopemag.com)
http://skopemag.com/2016/05/11/fire-in-the-field-look-so-strange
"Fire In The Field's "Look So Strange" reveals its heart and soul as blues mixed with rock n' roll. With a classic rock sound accompanied by a slow burning fiery passion these songs recall a sweeter more stylish time in pop. Everything works from the incredible emotional vocal delivery to the rollicking rhythms right down to the expressive organ. This is the kind of music that is as much physical as it is emotional, with the vamps being done pitch perfect to every song's small yet significant flourish of sound. 
"Honey Cup" begins things with an anxious guitar riff. From this small introduction the song's tension is slowly built up ever so gradually. Fire In The Field takes its time in letting the energy rise up until it absolutely overwhelms. By far the highlight of the collection the song gets ever more expansive in nature. Wasting absolutely no time is the downright lush sound of "These Hills". Precise percussion leads the way as the song morphs into something oddly beautiful, almost serene at times before interrupting this piece with dramatic fanfare. Heavy in nature is the distortion lead work of "Most Evil" whose chaos is engrossing, as Fire In The Field show off their considerable chops as the guitar solo tears through it all. Ending things on a high note is the high energy "Eyes".
'Look So Strange' shows Fire In The Field harking back to the best of classic rock."
Q&A by Chris Hislop of NH Seacoast Spotlight
Review by Johnathan Frahm of Yahoo