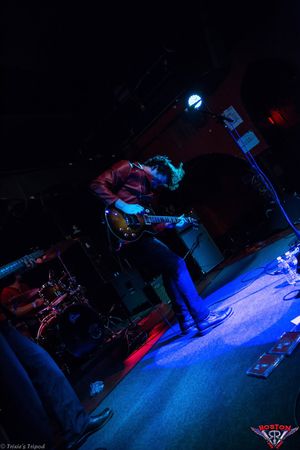 Boston-based Fire in the Field immediately makes an impression with their eclectic style of heavy driving rock, pushing the boundaries with energy, depth and detail.  Known for dangerous improv overlaid with poetic sensibility, the music is an honest attack on the soul played with a sense of urgency and unfettered passion.  The band's signature endorphin-releasing, guitar-driven sound has a bluesman's swagger with a punk heart.  Frontman Mike Moore channels Hendrix via Prince, both musically and in showmanship, exploring the limits of the guitar with true abandon.  Leaving it all on the stage, Moore pushes the envelope, exploring a melting pot of influences, from psychedelic and blues to funk and R & B. 
Enlivened by the new musical partnership with newcomers Jared Graham (drums) and Josh Hirst on (bass) their 2020 tour was of course cut off by the pandemic but it did not stop the sixth Fire in the Field album RESURRECT from dropping on vinyl and embodying the notion that live music will return as a force of unity and celebration.  This new LP takes listeners on a journey familiar yet brand new as the songs cascade from FITF's staple adrenaline pumping riff-rock, to down home open G blues, to falsetto funk, into the soul ballad that is "Scandalous Lightning" and the culminating singer songwriter acoustic track "Start Again." 
The sound of the band is a striking balance between Graham's minimalist and severe rock pocket style, Hirst's keen ear for low end harmony, and Moore's mad scientist approach to guitar.  The live Fire in the Field experience itself is transfixing.  Pulsing riffs form the backdrop for Moore's charged stage presence and unique timbre.  Pulling dynamic improvisations out of his guitar at the edge of the stage, Moore spins surreal tales while constantly moving and engaging with the audience.    
With Boston's music scene under their belt, including plays at The Middle East, The Paradise, and Brighton Music Hall, SXSW, and tours in New England and the south Fire in the Field pushes their powerhouse sound even further with their new album RESURRECT.
Fire In The Field's releases: 
Resurrect - 2020 (self released on vinyl)  2021 (streaming)
"Jimmy Rover" (single) - 2019 
"Under The Sun" (single) - 2019 
The Pink Noise Session - 2019 
Live On WMFO - 2018 
War Bonnet - 2017 
Look So Strange - 2016 
Gypsy Tea Room - 2014 
A song from Look So Strange was licensed to a Discovery Channel Network show.  Since the release of War Bonnet the band has gone on to tour heavily and get audiences whooped up into a frenzy at venues such as Once Ballroom (Somerville, MA), The Stone Church (Newmarket, NH), Tender Trap (Brooklyn, NYC), The Well (Brooklyn, NYC), Rockwood Music Hall (Manhattan, NYC), Radio Bean (Burlington, VT), Geno's Rock Club (Portland, ME), Ralph's Rock Diner (Worcester, MA), The Cantab Lounge (Cambridge, MA), New World Tavern (Plymouth, MA), Starlite (Southbridge, MA) among others. 
Additional Accomplishments: 
Boston Music Award Nominee 2020 
New England Music Award Nominee 2019